What is Bioglitter™️?
- The real Bioglitter biodegrades 90% in nature in just 30 days. Do not be confused with compostable glitter! Compostable glitter does not biodegrade in nature and is not an ecoglitter.
- The real Bioglitter was invented in the UK and it is made of Eucalyptus cellulose. It is also known as Ecoglitter.
- There are two types of Bioglitter. Bioglitter Pure (100% plastic free) and Bioglitter Sparkle (92% plastic free) 
- The real Bioglitter is 30-40% softer than regular plastic glitter or compostable glitter.
- The real Bioglitter is only hexagonal in shape.
BIODEGRADABLE

CMR FREE

CRUELTY-FREE

GMO FREE

ALLERGEN FREE

NON-TOXIC
Why Today Glitter?
- Today Glitter is the first company in the US to become a verified retail partner of Bioglitter. Our quality is fully guaranteed. 
- Today Gitter does not sell plastic glitter or fake biodegradable glitter (like compostable glitter). We never mix original Bioglitter with fake Bioglitter.
- Today Glitter has been featured in top media publications like Bustle, The Daily Beast or Vogue. Our reputation is globally renowned.
Today Glitter in the media
Today Glitter... ingredients that promote 'clean beauty,' free of harsh chemicals, irritants and carcinogens
Today Glitter is the only place you can get Bioglitter in the United States. Available in a variety of colors and a ton of glitter particle sizes.
A new company called Today Glitter sells an innovative, naturally biodegradable glitter, so the party doesn't have to stop just because the planet is drowning in plastics.
Plant-derived materials that is being used in products created by Primark and Today Glitter.
This eucalyptus-based glitter will make all of your dazzling decor dreams come true!
Eco-friendly formula allows Today Glitter to biodegrade in naturally occurring conditions in as little as 30 days.
Plastic-free and so much better for kids' parties and crafts than traditional glitter.
Today Glitter also sells biodegradable cosmetic glitter for makeup professionals, body glitter for festival-goers, and of course, classic glitter for kids and crafters.
Today Glitter, recently became available for purchase in the United States... turns out to be 30 to 40 percent softer than traditional glitters, making it much more skin-friendly.
Today Glitter offers a revised version of the sparkly stuff that is equally exciting minus the environmentally destructive aspect of the ordinary glitter, which can be found in virtually everything from NFL products to credit cards.
The first glitter to receive a third party certification verifying its biodegradability, this bio-glitter is made from eucalyptus instead of plastic.
This "bioglitter" is made from eucalyptus cellulose core, which means it's softer and can biodegrade in as little as 30 days.
Best Skincare products: Radiant Makeup.
Add customer reviews and testimonials to showcase your store's happy customers.
Perhaps you've read thatmost glittersare made with microplastics that can take 1,000 years to biodegrade? This cosmetic glitter is not most. It's made of BioGlitter Pure, a substance derived from wood harvested to standards set by the Programme for the Endorsement of Forest Certification, which allows it to safelybiodegrade in freshwater, according to even more standards set by TÜV Austria, one of two independent certification agenciesauthorized bythe European Bioplastics
NTY Today Glitter
---
Don't take our word for it
"I'm so happy with Today Glitter's products, They were all I expected and more! Colors are amazing and it's a ecological option to look amazing while protecting our planet!"
Bought Electric Gold
Buy now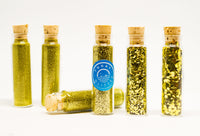 Don't take our word for it
I was very shocked at the beauty of these glitters. I love all of them! Exceptional customer service too! Working with them to fulfill my wholesale orders was very easy.
Bought Mermaid Turquoise
Buy now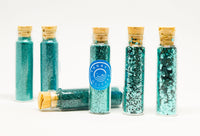 Don't take our word for it
I got these for my daughters as a stocking stuffer. My 8 year old loves crafts but also loves the ocean and is passionate about cleaning up the environment. I love that she can let all her sparkles shine now. (My younger daughter will just be happy because it's glitter!)
Bought No-Plastic PINK
Buy now
Join our affiliates program
If you like TODAY GLITTER and are dying to share with the word all this awesomeness, now's your chance to sign up for our affiliate program. Let's sparkle together without damaging the environment! How does a 15% commision sound?
Learn more